3 Actors: 2 women (20s, 30s/40s), 1 man (40s)
Runs as Two Act
Running time: 100 minutes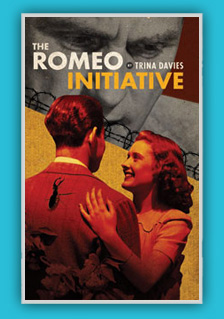 The perfect man. The perfect romance. Karin Maynard is on vacation when she meets the handsome and attentive Markus Richter. But back home in Cold War Germany, things are not so simple. If emotion can be manufactured, how do you ever really know if you are loved?
Based on a real program in East Germany in which West German secretaries were targeted and psychologically profiled to determine their 'perfect man'. The Stasi identified the man who looked right, who could be coached, and that man was sent to develop a long-term relationship with the target.
Half romantic comedy and half spy-thriller, The Romeo Initiative is a journey into the heart that leaves audiences gasping.
REVIEWS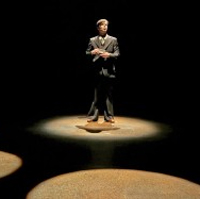 Christian Goutsis, ATP 2011,
Photo: Trudi Lee
"Play has a seductive hook, digging into one of the hotter chapters in Cold War Germany…August Strindberg wrote that 'Love between a man and woman is war', but Davies suggests it is actually a Cold War full of anxiety, paranoia and double agents…One of the play's more provocative questions is: Can a man both love a woman and betray her? Goutsis' humane performance suggests the answer is yes – but that doesn't stop Davies from dishing him out his just desserts too."
Globe and Mail
"Romeo Initiative Stole My Heart… The choreography, the nuances of the writing, the set changes, the lighting, the physical balance of the two acts were fantastic! None of these details can communicate how powerfully this piece affected me…The Romeo Initiative will appeal to anyone who likes to think as well as feel at the theatre. It's a stimulating piece." Plank Magazine
"So intrigued was I at the end of Act 1 of The Romeo Initiative, I was almost vibrating…I find the way playwright Davies structures the play really invigorating. It speaks to how differently we view the same sequence of events and how being in love can completely cloud our thinking. And while there's nothing new there, splitting a play like that into its two halves is risky and bold." Jo Ledingham, theatre critic for The Vancouver Courier and On The Scene
"The Romeo Initiative is for people who like love stories. This one happens to be humourous and a little dark. But at its base the story revolves around love and how it can live in the strangest of situations…If you like a good love story with a dark underbelly – go see The Romeo Initiative" Vancouver Vantage
"I'm not sure the Enbridge PlayRites Festival could have chosen a better play for their 25th anniversary and their 100th premiere."
Avenue Magazine
"Play delivers a swift kick in the heart."
Calgary Herald
Winner of the 2008 National Enbridge Award for Established Artist
Finalist for the 2012 Canadian Governor General's Literary Award for Drama