4 Actors: 3 Female (teens/20s, 30s, 50s), 1 Male (20s)
Two Act
Running Time: 95 Minutes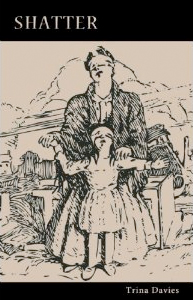 1917. The largest man-made explosion prior to Hiroshima. Two thousand dead, hundreds injured and blinded, and many more homeless.
Shatter explores the little-known details of the aftermath of the Halifax Explosion of 1917. Anna MacLean is a teenager, thrilled with her new diary, ripe with the promise of youth, and flush with excitement at all of the handsome soldiers in the streets of Halifax.
Though Anna's mother and her best friend, Elsie Schultz, talk of the war, Anna can only think about whether the young man at the door enforcing the blackout order thought she was pretty. The next morning the world collapses. As a community tries to find someone to blame, four characters search through the rubble for something true. Lyrical and shockingly relevant to our post 9/11 world, Shatter is an examination of the cycles of fear.
Shatter is published by Playwrights Canada Press and is available for purchase by clicking here
REVIEWS
"intense, moving, and utterly devastating… you will not leave Shatter without being transformed"  Times Square Chronicles
"Shatter is a thoroughly engrossing, haunting performance, and one that you will be unable to forget or cast aside for some time to come".
Vue Magazine
"The atmosphere of suspicion and rage resonates with post-911 NYC. This is a taut, exciting and moving production of a smart, informative play" Hi! Drama Theatre Reviews (MNN, Public Access Television, Manhattan)
"An intense, moving, thought-provoking, very human drama."
Halifax Herald
"Haunting and riveting, a must see production !!"
Amherst Citizen
"Shatter unfolds close to the heart, splintering it into a million pieces as it follows the prejudiced upshot of the 1917 Halifax explosion…[the production is] a living, breathing gem"
St Albert Gazette
"The business of the play is the rage that the townspeople direct at their German-born neighbors, and, more specifically, at Elsie. At its most terrifying, the rage drives people – Canadians! – to a wholesale destruction of the homes owned by German-born townspeople…The aftermath of the Halifax explosion shows that even the gentlest and most well-mannered of people are capable of irrational destructiveness if they are subjected to sufficient pain." DC Theatre Scene.
Winner of the 24 hr Playwriting Competition ATP
Short List for International Prism Residency Prize 2003
Short List for New Works of Merit 13th Street Repertory Theatre NYC 2004
Short List for International Dramatic Literature Prize Media Arts Literature and Sound San Francisco
Shatter was featured at the Women Playwrights International (WPI) Conference in Mumbai India in 2009