1 Female Actor
Running Time: 25 Minutes
Sandra understands. He's not a bad guy, he just 'snapped', the bad stuff oozed out like a pizza pop that's too hot. A Love Story looks at serial killer groupies and what a woman will do for love.
A sensation as part of LoveHateKill at the Edmonton Fringe. Currently being adapted into a short film.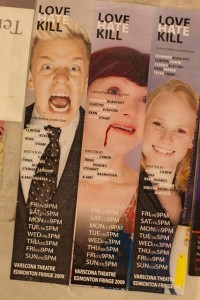 Ryan Parker, Clarice Eckford and Shannon Blanchet
in LoveHateKill